We are now in the Season of Advent, this time of anticipation and preparation starts on the fourth Sunday before Christmas.
In the Catholic Calendar, these four weeks leading up to Christmas are traditionally considered a time of preparation for the coming of Christ and so is a time where we prepare our hearts, minds and homes in anticipation of Christmas.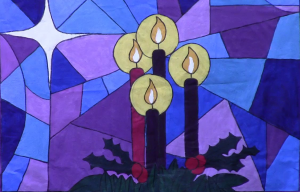 Advent wreaths with four candles are used to focus on each of the four weeks of Advent and are displayed in the Church and classrooms during this time.