With Christmas only weeks away, we will soon commence the Liturgical Season of Advent.  Advent is a time of preparation for the birth of our Lord and encompasses the period of the four Sundays preceding Christmas.
The recognised symbol of Advent is the Advent Wreath, often a circular display of greenery with 3 purple and one pink candle, representing each of the 4 Sundays, with a 5th white candle in the center, which is lit on Christmas Day.
This wreath is used in Churches and family homes alike, to symbolise the Hope, Peace, Love and Joy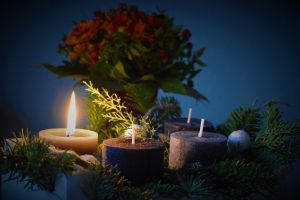 experienced through the birth of Jesus at Christmas time.
You family will hear about Advent through our students and you may like to create your own Advent Wreath to display at home.